ED: As reader Joseph pointed out, Scary Mary does birthdays, weddings, and bar mitzvahs. That's one down, two to go ...
Next chapter begins on Saturday. Remember when this was a comic about superheroes? Guess what, we'll actually get to see some hero vs. villain action! Violence! Mayhem! Paperwork!
ERIK: A while back I said old people are too much fun to draw. Now I've discovered that old, homeless people are even more fun to draw. Maybe I just have an evil sense of humour.
ED: As long as I've got you good folks here ... would you be willing to help out a couple of struggling artists? We have a new donation wallpaper, featuring the whole Mighty family in a dramatic pose ...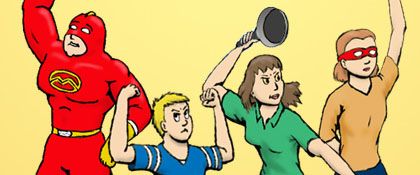 ... well, 75% dramatic anyway.
Please click on the tip jar below. Any donation of $1 or more gets you the wallpaper of your choice! If there's a specific image you'd like, let us know.