Back in the spring of 1997, I heard a song that changed my life. But it's a long story. Spring break in 1997 I had a chance to see Moxy Fruvous. On March 16th they played the Iron Horse Music Hall and it was a great show. They had just released "You Will Go To The Moon," arguably their best album, and it was an amazing show. There was one song that was not on the new CD I bought and I couldn't wait to hear the song. Later that week, still on spring break, I Saw them a second time. This was on the 20th. Before the show I met up with my then roommate and we were to hit the show together with a third friend. We listened to the album and that song wasn't on the CD. Yet that night I heard it and was enamored by it.
It was this dive of a place, smoke filled, dirty, and in the wrong side of town. I went back and say dozens of shows there after that. Place was called Valentine's. And I loved the show! You can tell from the back of my head in the picture: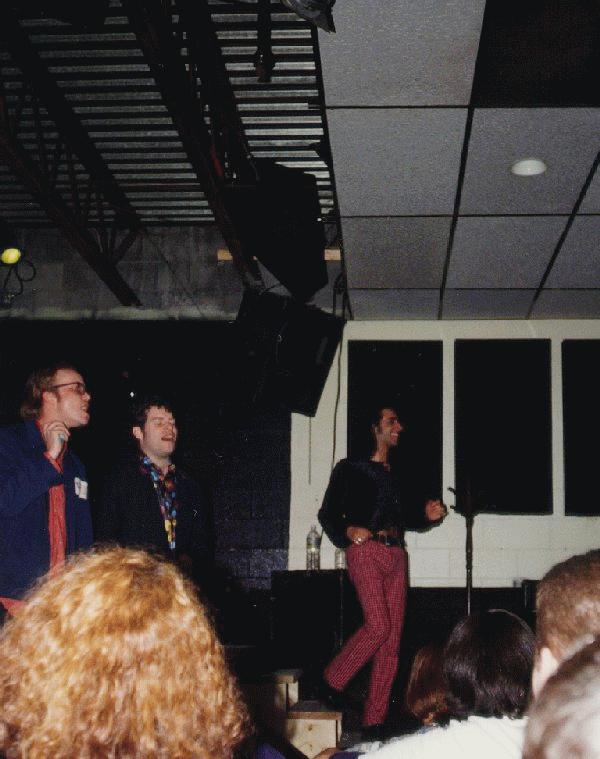 That's me in the white shirt and dark brown hair. I think that was my SPAM tee-shirt if I remember correctly.
They played that song again. This time I remembered the title: "Today's the Day That We Fight Back."
It was not on any of their albums, and thus began the search for an out of print CD.
It was recorded on an album called NO Mega-CD. It was an album protesting Scott Walker Mike Harris the Governor of Wisconsin Premier of Ontario and his selling out of his state province to corporate interest over serving the people. Toronto has one of the best music scenes around, so this album was stacked with talented musicians and had a few speakers, too. Margaret Atwood was one of the speakers.
But they couldn't stop Mike Harris and his corporate backed sponsors and Jian Ghomeshi only broke out the album to sell at Frucons.
So there I was at Frucon and there was the CD. I was flush with my Bill Clinton money, because in 2000, we still had it, and I was in Canada. That made the CD expensive for a CD but worth it. (I think I paid close to $30 for it. It was $50 Canadian at the time.) And there it was. This long sought after song by none other than Moxy Fruvous, Today's the Day that We Fight Back.
If you listen to this song and live in Wisconsin, yes, this is not about you, this is from 1997 about Ontario.
When I heard all of this about how the corporate interests buying the government, I scoffed. "That would never happen in America." Then, several months later, we appointed, we elected George W. Bush.
As I listened to the album, the following song was "It's a Bad time To Be Poor" by the Rheostatics.
But it was the 3rd track that caught my attention. It was a speech by John Ralston Saul called "On Democracy in Ontario part 1." That quote was the edited version of the speech, one thought trimmed down that made me pay attention. Over the next 8 years I would return to those words he spoke and wondered what wisdom that I missed could be gleaned. Part 2 had it because he stomached something I would never consider doing, reading 25 years worth of Neo-Conservative writings and distilling it into one thought: "At the center of all of their ideas is this: take all of the social policies that you can at the federal and state level, and move it far down the chain to the lowest level of government possible, in the full knowlege that it will be impossible to effectivly raise enough taxes to keep them alive at that level, so the result is you will never have to fight an election over to do away with Medicare or care for the aged or what ever because it will wither on the vine without the citizens ever having take part in a democratic debate about whether or not they want that."
Sound familiar?
Now, I'm going to start asking you this every episode in this story: please go to the paypal link and make a payment to help aid the protesters in paying legal fees or if you would rather send a check, please message Sue Trace and she will help you. They do have attorneys who are representing them for low or no cost. But at $36 per jury fee, the costs are mounting. These people are singled out by the Scott Walker administration and are trying be silenced instead of being allowed to express their Constitutionally protected rights.
--------------------------------------------------------------------------------------------------------
Help me get the word out about this comic! If you are reading the comic and ever felt that more of your friends should read this book, then click the link below and allow us to tell your friends about Right About Now as often as you choose by either donating your Twitter or Facebook accounts. We will tell your friends about this comic so you won't have to. Thank you for your support!
Right About Now can always use help. This, hopefully will be one of many revenue streams for me but for the moment it is my only job. Please support by making a donation to see Right About Now grown and expand. Thank you.
Nominate
J. Andrew World
for a
social media award
in the Shorty Awards