Daily
Shaenon: I'm going to be a guest of honor at Arisia in Boston next January. For the Arisia website, I drew a bunch of scientist characters from Narbonic and Skin Horse. Here's the rest of the set: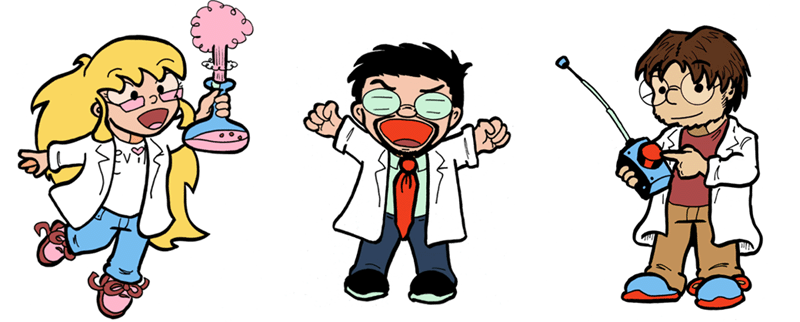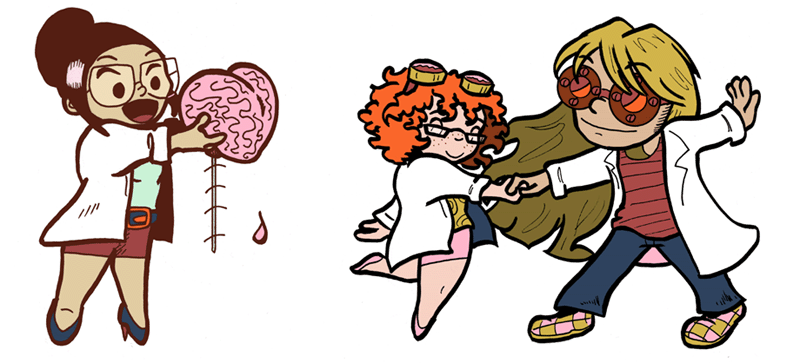 I dunno, I just really like scientists.
---
Channing: I love these little happy tortured genius chibi guys. It makes me want to whip up some lame justification in the script for doing an entire week in chibi style.
Linda Shaver-Gleason (
forty-two
) says:
An airborne virus that turns everyone into chibis? A storyline that takes place within Tip's mind, using chibis as the other characters' avatars? (Though if it were in Tip's mind, they should be hand puppets. Hmm...)
Clara Qrhe (
qrhe
) says:
I want a t-shirt with that Dr. Jones SO BADLY. "Let's do science" indeed!
Ed Gedeon (
eddurd
) says:
@Clara: Don't you know? "Science is a verb now."
(TUNE: "Singing In The Rain", Arthur Freed & Nacio Herb Brown)
We're chibi scientists!
We're chibi scientists!
What a pleasure is having
The world in our fist!
Now give us applause!
We've earned it, becuase
We tamper with Nature,
Perverting God's laws!
All the plans that we've had
Are so totally rad ...
We're most of us evil,
And all of us mad!
If you're on our list,
You'll be gone, and not missed!
'Cause we be
Such chibi scientists!
Woof Arf (
woofnarf
) says:
Gawd, they're sooo adorable!
It makes you wanna pinch their cheeks and say
"Who's the mad scientist! Whoooo's the mad scientist!"
Dominic Corbin (
lnick
) says:
Oooh. That Ginny Lee is AWESOME!
Cathy Mullican (
nolly
) says:
T-SHIRTS! Must be t-shirts!
Rob (
rrreed
) says: CHIBIS!
FOR SCIENCE!
(Is it too late to suggest
Narbonic Babies
?)
Mark SHANKS (
drhistory
) says:
Could turning the Skinhorse cast into Chibis merely be the opening salvo of the insidious Kawaii Corporation, run by the legendary evil Mr. Sanrao and his equally evil cats?
Sean Riedinger (
ariamaki
) says:
I would live and die to see a Chibi Week, or even a Chibi Storyarc- Other comics can manage it, SHINE has the Fangirl Invasions for interaction of Chibi and Normal, and I think it would be phenomenal-- Especially with how awesome the ones above are.
Ronnie Simonds (
ronrab
) says:
CHIBI is self-justifying.
Ruben Krasnopolsky (
ruben
) says:
Chibi Madblood is my portrait. I shall not fail.
Chibi Dave is my inspiration. I shall reach ahead.
Chibi Helen is my mentor. I shall learn to win
Chibi Lee is my leader. I shall strive for brains.
Chibi Marcie is my example. I shall do no less.
Chibi Chris is my source. I shall be irradiated.
Chibi Jones is my Sweet Lord. I shall call her ma'am.
Sciencing, sciencing, sciencing,
the chibi-sweet stellar science,
collapsing, transforming,
expanding, and verbing away!
Ruben Krasnopolsky (
ruben
) says:
Can I have Chibi Madblood for an avatar?
Ruben Krasnopolsky (
ruben
) says:
@Ed: "Most of us evil". Let's count: Dave, Helen, Lupin - sure - hell-deserving evil ones, as bad as it gets. Lee: I think so too. That already makes a majority. Marcie and Chris (the Mighty DoI): naughty, they are wasting their potential. Sweet Lord Ma'am Jones - a mysterious unknown factor - which is exactly as she likes it... at least a touch of evil is there. Yep, the count checks.
David Harmon (
mental_mouse
) says:
Arisia, huh? It's been well over adecade since I attended.... Might be worth swinging by.
Linda: For Chibi rather than puppets, that should be in Marcie & Chris's minds!
John Ames (
commodorejohn
) says: I love all of these, but those last two in particular are just glee-inspiring.
Edwin Quantrall (
reynard
) says:
Cathy Mullican says: "T-SHIRTS! Must be t-shirts!"
Seconded!!!
Joe Glow (
joe_glow
) says:
those are unbelieveably awesome.
Sor Cyress (
sorcyress
) says:
Have I mentioned that me and my dragon have been squeeling over you being at Arisia since we saw your name in this year's program as next year's GoH?
Because we have been squeeing. Muchly!
~Sor
Robin Sandlin (
desdinovab
) says:
I finally have a use for my Shrinky-Dink printer sheets! Along with some adhesive magnetic strips and adorable refrigerator magnets are MINE!
Daniel Ross (
nentuaby
) says:
Dag! Those *need* to be merch of some description or another.
Charles Wilson (
roidesfaux
) says:
Yes, t-shirts!
Also, stickers.
'Keiya' (
keiya
) says: Hey! All of you saying they're mad scientists! Only four of them are mad! (the other three are all suffering from similar symptoms, but not actually /mad/, per se.) ... Though holding a brain like that makes me wonder about Dr. Lee...
lucy wang (
soccercleats
) says:
In addition to finding inspiration for your big day,human hair and cycling shoes to-be can wander around polo outletand ralph lauren shirts of wholesale shoes, nike soccer cleatswhich haveabercrombie outlet undergonenew era hats renovation to restore its original period splendour. After all the wedding chat, oakley sunglasses you can round off youradidas soccer cleats with a spot of china soccer cleats tea in the new Orangery Tea RoomsMizuno soccer cleats.
albert lam (
jy02153915
) says:
Among the new Black Louboutin, they are an updated everyday to enable easy browsing and additional entertainments have been added to search options Christian Louboutin Sale quickly. All of these Christian louboutin pumps from a drop-down menu bar and include a "red sole" feature and a "Weddings" Cheap Christian Louboutin Shoes that allows ladies to shop for handmade bridal jewelry, bridesmaid jewelry and flower girl jewelry. Christian Louboutin Pumps that enables customers to easily search for http://www.blacklouboutinsale.com/ may be ordered in any increment.
albert lam (
jy02153915
) says:
For every winter season, women seem to scramble to find the perfect Moncler Women winter coat that not only fits their budget, but their personality as well. From summer to winter, coats or down to Moncler Jackets Store, your taste in outerwear not only encourages you to make a fashion statement, but also reveals lots about you! Plus, if you're a tried and true fashionista who recycles coats from Wiki Moncler, you'll always be in need of different options to fit your mood. Did you ever think there were so many things to factor in when grabbing a pair of Moncler Boots as you dash out the door? Of course, that's the upside of having us at your disposal as one of your go-to fashion Moncler Winter Jackets to translate the trends.